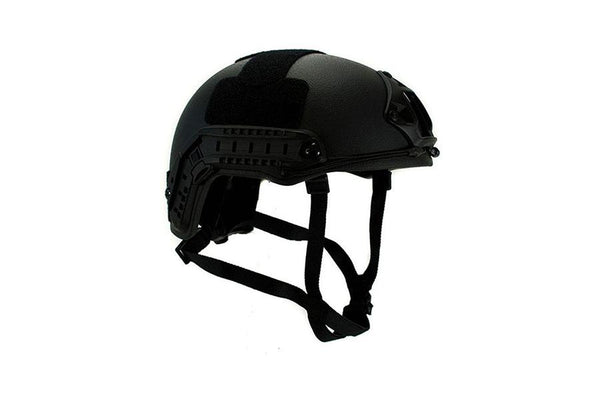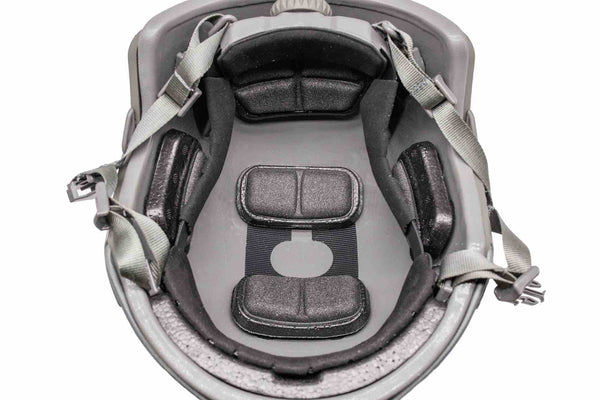 Ballistic Helmet - Level IIIA - Gen 1
Advanced Combat Helmet
 From Ballistic Armor Co.
Gen 1
This Gen 1 advanced combat helmet (ACH) is manufactured to Ballistic Armor specifications and independently tested in a certified NIJ lab in the United States. The high-cut or above-the-ear (ATE) design offers mobility and weight reduction over the standard MICH helmet.
Key Features
NIJ IIIA Ballistic Protection means our helmets offer protection against .44 magnum, .357 SIG and 9mm rounds.
Front-mounted shroud with NVG bungee cords.
Polymer ARC rails (Picatinny accessory adapter included).
Foam pads for lightweight comfort.
Fully adjustable padded dial suspension system (large helmets only) or 7 pad system (extra large helmets only).
Velcro loop material on the front, sides, and rear of the helmet.
Tested by an independent NIJ lab in the United States per modified provisions of NIJ 0106.01 with NIJ 0108.01, (Level IIIA requirements testing for ballistic helmets).
Manufactured to Ballistic Armor specifications.
Visit our FAQ page for more information about our helmets, including ballistic information and warranty information.
Care Instructions
STORAGE: This product is manufactured using an aramid material which naturally breaks down over time. Ultraviolet light accelerates the breakdown of aramid fibers, so be sure to store your helmet in a dark, cool place when not in use to ensure maximum lifespan of the product.

USE: To extend the life of your product, it is strongly recommended that you use a protective cloth cover over the helmet to protect it from UV rays while in the field.

CLEANING: Clean with a soft cloth dampened with water, as needed. Do not use cleaning detergents or abrasive scrubbing materials, as these may compromise the ballistic material. Do not allow the product to sit in water, as this may corrode the ballistic material.

PAD CLEANING: Remove pads from the interior of the helmet and gently rub under warm running water. Squeeze out and air dry. Do not machine wash or dry! Avoid using cleaning detergents as they may break down the memory foam.
Warranty Information
We offer a 10-year manufacturer warranty on all Ballistic Armor products. This means we guarantee that your product will remain free of manufacturing defects under normal use for 10 years. This product is manufactured using an aramid fiber material which breaks down over time. It is advised that you replace your ballistic armor every 5 years to ensure maximum ballistic integrity.
Injection Molded Turn Dial Suspension
The injection molded poly suspension incorporates recurves in the straps for natural shock absorption with each step. With a rubberized turn dial to adjust the continuous suspension, this helmet is convenient to adjust in the field with your gloves on.
5-Point Rubber Foam Pad System
The 5-pad system of the Gen 1 helmet gets the job done. With excellent airflow and sufficient depth to insulate from IIIA-level backface deformation, it is the economical delta of optimal comfort and performance in the field.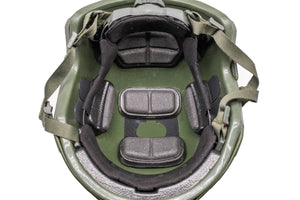 FREQUENTLY ASKED QUESTIONS (FAQ)
How long will delivery take?
Most orders placed after 1pm ship the following business day. Learn more about shipping times here.
Where are Ballistic Armor Co.® helmets manufactured?
All of our helmets are made to Ballistic Armor Co.® specifications by manufacturing facilities overseas, and independently tested by an NIJ-certified lab in the United States.
> Gen 2 helmets are manufactured in Denmark, a NATO country.
> Gen 1 helmets are manufactured in China.
Unlike many products made in China, our ballistic helmets are produced using American-made raw materials and tested to the same rigorous standards as their Denmark Gen 2 counterparts. As such they are subject to the same 5-year warranty that we offer on our Denmark-made Gen 2 helmets.
I'm currently deployed. Can you ship to an APO?
Yes. Please note that shipping to a military base or U.S. embassy overseas is still considered an export, so it is subject to the same ITAR/EAR constraints as a regular export. However, in most cases it is not a problem shipping to deployed military.
If there is any further information needed to ship your product then a customer service representive will reach out to you directly.
How can I track my order?
You can log into your account to view orders and tracking information. If you don't have an account, you can also track your order with your email and order # here.
If you have any trouble, email us at info@ballisticarmorco.com and we can provide you with the most current order information.
Do you offer a military/LEO discount?